Why we all need
Web Standards and
a good Open-Source browser
Tristan Nitot
The Gutenberg revolution
Before printing was invented, monks were handwriting copies of the Bible. I took one year to complete a single copy.
1440: Printing was invented by Gutenberg
End of XIXth Century: the Linotype was invented, enabling faster composition of texts
Suddenly, it made sense to know how to read and write
It was a revolution in terms of spreading culture and knowledge
Comparing Printing and Internet
Internet enable the individual, as opposed to radio and TV
Internet is about speed and getting rid of distances
Internet is all about interoperability (Windows, Mac, Linux, mobile phone, PDA).
Internet is independent of Operating Systems.
With Internet, proprietary systems become obsolete.
Printing and the internet are both a set of existing techniques that, put together, enable amazing spreads of culture, communication and commerce.
The Web: an Open system
1992: Tim Berners-Lee, scientist at the CERN, invents the Web, an open, freely accessible cyberworld, based on open non-patented, royalty-free technologies (HTML, HTTP, URL).
1995: Netscape, a young start-up company, ships Netscape Navigator and reveals the Web to the public at large;
1996: Microsoft feels threatened and starts competing with Netscape. Innovation is everywhere.
1999: Now that IE is bundled with Windows, Netscape is dying. IE 5.5 ships.
2001: IE 6.0 ships.
2002 to 2005: nothing
Two lessons...

1 - A monopoly has no reason to improve a free product unless it can sell an upgrade.

2 - No competition? No innovation!
Back to Gutenberg
What if Gutenberg's invention was prevented by a company who had monopoly on hand-copying?
What would be our civilization today?
What if a company having a monopoly on candles: would it let the electricity industry develop itself?
Looking closer...
March 1998, Netscape reveals its source code to the public: Mozilla.org is born;
November 1998: Mozilla.org opts for a complete rewrite. Many people claim that the project is doomed.
June 2002: Mozilla 1.0 is silently released. Netscape offers products based on Mozilla, but with very little marketing
June 2003: AOL and Microsoft reach an agreement. Microsoft gives 750 million dollars to AOL. All Netscape employees are axed;
By then, the world Wide Web is mostly "optimized for Internet Explorer", a product which is not actively developped, with 95% market share, and not available on all platforms
How can we avoid this in the future?
We need browser technology for every platform (and every version of Windows)
This browser technology must implement Web standards (for the future of the Web)
It also needs to be compatible with existing Websites.
It must have significant market share so that it cannot be ignored.
Innovating with Standards
In a world where interoperability is key, innovation must follow Standards...
For several years, browser vendors have created proprietary elements to differenciate from the competition. Images, Tables, Background sound, Marquee, ActiveX...
This led to incompatible browsers and infamous "best viewed with..." buttons everywhere.
If we want the Web to grow, we must stick to well-documented, open standards.
The W3C, World Wide Web Consortium, provides such standards, by working with vendors.
Dealing with compatibility
Two main concerns:
Implementing Web standards (HTML, CSS, DOM, JS) in order to avoid the mistakes of the past;
Remaining compatible with existing documents (litterally years of work to inject IE 4 and Netscape 4 quirks into our product);
Test you web site with Firefox and other modern browsers (Safari, Opera, Konqueror);
Check that your sites are valid, using http://validator.W3.org
Demand Web standards conformance to your vendors
State of the Mozilla Project
Successful launch of Firefox and Thunderbird, end of 2004
Both Firefox and Thunderbird are now available in over 30 different languages
56 million downloads for Firefox
Participation and interest in the Mozilla project is stronger than ever
Mozilla Foundation and the Project
Mozilla Foundation is a nonprofit 501(c)3 organization created in July 2003
The mission is to preserve choice and innovation on the Net by creating standards-based, open source products and technologies
Stewards of the Mozilla Project, providing the infrastructure to manage the project
Deliver end-user products
International Affiliates: Europe, Japan, China.
Mozilla by the Numbers
Engineers - 18 at the Foundation; others full time from Sun, IBM, Redhat, Novell, Google, others; still more contributing patches
Localizers - products translated into many languages
Testers - 10,000 pre-alpha testers file 70 to 100 "bugs" a day, more than 100,000 beta testers
Advocates - over 100,000 advocates of our products through Spreadfirefox.com project
Extension Developers - over 200 extensions for Firefox
Great reliance on each of these "communities" to make the project successful
The Mozilla Recipe
Open source development model
Great products that matter

Web browsers and email clients matter
Cross platform, multiple language support, extensible, easy to use and migrate to
Involves many communities including design and marketing

Products are complete

Includes cd, guidebook, support documentation, marketing support, and t-shirts

Relentless focus on the end user
And lots of luck, right product, right time
Mozilla Firefox web browser
56 million downloads in 6 months
Key Features:

Streamlined user interface and functions
Tabbed browsing and pop-up blocking
Live bookmarks, RSS feeds
Integrated search

Web developers are excited
Marketshare for a recent Sunday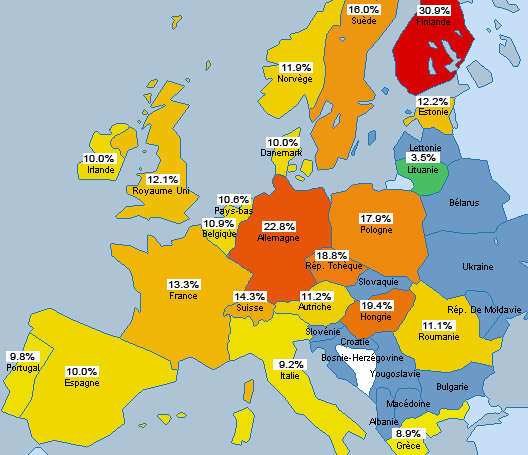 Source : XitiMonitor.com. Figures from Sunday 20050424.
The Road Ahead
Move the web forward: better web sites and applications based on modern browsers and standards
Continued innovation with the Mozilla Platform, Firefox and Thunderbird products, and more products
Focus on global efforts, improving coordination and communication
Participating in the Mozilla Project
Easy with many ways to participate and with real results

Marketing community: Spread the word, http://spreadfirefox.com
Testing community: download builds, provide feedback, and file bugs
Web development: code to standards, push the limits
Localization: localize and translate the browser
Extension development: easy way to start developing
Application and platform development

A truly rewarding project